Why Vaccination Is Essential: 6 Myths Debunked
2017-09-24 19:46:00
Anyssa Garza, PharmD
Considerable discussion regarding the safety and effectiveness of vaccines, including statements made by celebrity spokespeople for the anti-vaccination movement, has led many parents to decide against
immunizing
their children. Below, we debunk the top 6 vaccine-related myths.
MYTH 1: VACCINES CAUSE AUTISM.
There has been a lot of discussion about the link between childhood vaccines and autism. Studies have concluded that no link exists between receiving childhood vaccines and developing autism spectrum disorder (ASD). Thimerosal, a preservative historically included in many vaccines, has been specifically studied over the years, and according to the CDC, research has shown that thimerosal does not lead to ASD. A scientific review published in 2004 by the Institute of Medicine showed that "the evidence favors rejection of a causal relationship between thimerosal-containing vaccines and autism." Between 1999 and 2001, thimerosal was removed or reduced to small amounts in all childhood vaccines except for 1 type of
flu
vaccine. Since 2003, the CDC has conducted 9 studies that have found no link between thimerosal-containing vaccines and ASD. These studies can be found on the CDC's website.
1
MYTH 2: GIVING A BABY MULTIPLE VACCINES MIGHT OVERWHELM THE IMMUNE SYSTEM.
Because of concern that administering multiple vaccines simultaneously can overwhelm a baby's immune system, many parents spread out the time periods between vaccinations. However, scientific research has shown that receiving several vaccines at once does not lead to chronic health problems. Many studies have evaluated the effects of various vaccine combinations. In addition, when a new vaccine is licensed, it is tested along with those already recommended for particular age groups. The recommended childhood vaccines have been shown to be as effective in combination as they are when given individually. The American Academy of Pediatrics and the Advisory Committee on Immunization Practices recommend receiving all routine childhood vaccines on time. The childhood vaccine schedule is designed to provide protection as soon as possible against serious diseases that may affect infants. In fact, the vaccine schedule ensures protection against 14 infectious diseases: measles, mumps, rubella, varicella, hepatitis A and B, influenza, polio, rotavirus, pneumococcal disease, Haemophilus influenzae type b, diphtheria, tetanus, and pertussis, and all before age 2.
2,3
Spreading out vaccines can result in delays in immunization.
MYTH 3: VACCINES CAN CAUSE ADVERSE EFFECTS AND ILLNESSES.
Although some say that they are opposed to vaccinations because of adverse effects and illnesses, the risk of disease outweighs the risk associated with vaccines. Vaccines prevent potentially serious illnesses that can lead to hospitalization or even death. Not only are vaccines already safe, but scientists are continually working to ensure even greater safety. Before a vaccine is licensed, it undergoes extensive testing, and it is continuously monitored for safety as long as it is in use. However, as with all medications, adverse effects can occur, but these tend to be minor, such as soreness at the injection site or low-grade fever. These adverse effects do not last long and can be treated. Serious adverse effects are rare and do not compare with the real risk of getting a serious and dangerous vaccine-preventable disease.
4
MYTH 4: VACCINES CANNOT BE GIVEN TO PEOPLE WHO ARE SICK.
Mild illness with or without a fever is no reason to withhold a vaccination. It is OK for someone recovering from an illness, on antibiotics, or recently exposed to an infectious disease to receive a vaccine.
4
MYTH 5: MY CHILD IS TOO YOUNG TO RECEIVE THE HUMAN PAPILLOMAVIRUS (HPV) VACCINE AND WILL THINK THAT GETTING IT MAKES IT OK TO HAVE SEX.
The HPV vaccine is important because it prevents infections that can cause cancer, such as of the cervix or the back of the throat. The CDC recommends that children aged 11 to 12 years get 2 doses. Like all vaccines, it is recommended earlier rather than later. In addition, research has shown that getting the HPV vaccine does not make kids more likely to start having sex.
5,6
Detailed information on the updated recommendations for HPV vaccination and answers to frequently asked questions are available (tables 1 and 2).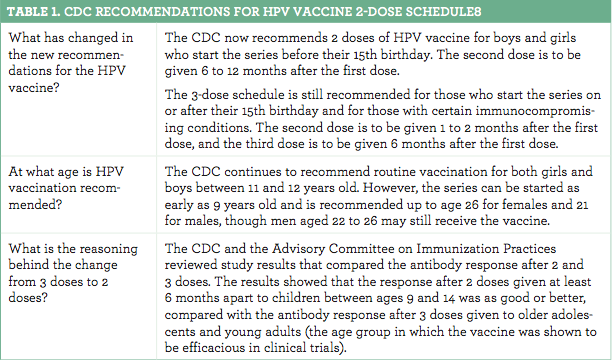 MYTH 6: VACCINE-PREVENTABLE DISEASES HAVE BEEN PRACTICALLY ELIMINATED, SO THERE IS NO NEED TO BE VACCINATED.
It is true that vaccination has helped reduce most vaccine-preventable diseases to very low levels in the United States. However, some of these diseases are still prevalent and even epidemic in other areas of the world. In fact, travelers can unwittingly bring these diseases to the United States, and, if the community is not protected through vaccination, a disease could quickly spread and even cause an epidemic here. In addition, without the protection of vaccines, the few cases in one country, including the United States, could lead to tens or hundreds of thousands of cases.
Vaccination should occur for 2 reasons: the first is to protect ourselves. Even if we think the chance of contracting any of these diseases is small, the reality is that these diseases exist and can infect anyone who is not vaccinated. The second reason is to protect those around us. A small number of people cannot receive vaccines for medical reasons, such as having a severe allergy to a vaccine component. These people have a higher risk of contracting a disease, and their only hope of protection is that those around them have been vaccinated and cannot pass on the disease.
7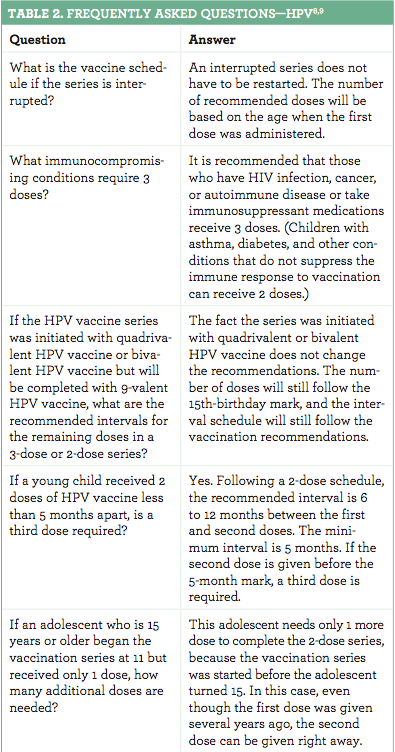 ---
Dr. Anyssa Garza received her doctor of pharmacy degree from the University of Texas at Austin before becoming the director of pharmacy for a Central Texas Department of Aging and Disability facility. She now serves as the vice president of content and patient education programs at Digital Pharmacist. In this role, she provides patients with medication information and medical knowledge that can contribute significantly to the quality of care they receive and improve their quality of life and health outcomes. Her work focuses on educating patients and providing them with the resources they need to navigate the health system and their health care issues. She also is an adjunct assistant professor at the University of Texas at Austin College of Pharmacy.
---
References