Pharmacy Student Takes Passion for Cardiology into World of Academia During COVID-19
2020-11-17 12:00:00
Jill Murphy, Assistant Editor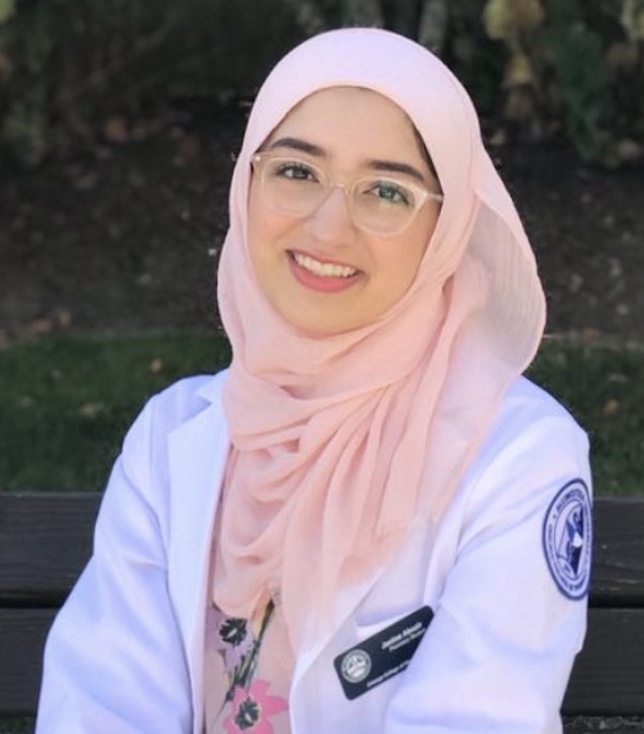 Since the beginning of the coronavirus disease 2019 (COVID-19) pandemic, pharmacy students have had to deal with the changes in their courses while thinking about the uncertainty in their professional future. Luckily for student Jenine Abuzir, PharmD candidate at Midwestern University, Chicago College of Pharmacy, she was able to take part in the educational aspect of pharmacy school and help other students with their journeys during COVID-19.
Although she describes herself as a "very dedicated, motivated person," Abuzir did not always know exactly what she wanted to do when she first began pharmacy school. However, coming from a family that grew up academically oriented, her mother being a teacher herself, Abuzir knew that following the teaching path was always a potential career option.
Abuzir's experience with education and teaching others began in her first and second years of pharmacy school. She became heavily involved with a specific student organization that showcased using and creating different health screenings for underserved Middle Eastern communities within the Chicago area. Further, this opportunity helped Abuzir realize her passion topic in pharmacy is cardiology.
"It was something that immediately captivated me when I was learning it in school, and I knew this was something potentially I wanted to go into more long-term in the future," said Abuzir in an interview with
Pharmacy Careers
®
.
Abuzir took the advanced elective level of cardiology at school, shadowed a pharmacist in cardiology for a summer, and even worked in the cardiac ICU for her rotation for a few months to continue following her dream.
This past year, Abuzir was able to apply her cardiology knowledge and interest in education when her clinical skills professor approached her about helping to teach a women's health elective for second-year pharmacy students. She decided on the topic "Atherosclerotic Cardiovascular Disease (ASCVD) in Women," which aligned with her passion.
"This was such a cool opportunity since I did not know this was available for a student to do," said Abuzir. "I had seen other lecturers from different institutions, or even residents when they come to campus, but I didn't know a [pharmacy 3 student] could teach a [pharmacy 2 student] class."
With full creative reign over the class format and the topic, Abuzir felt very lucky to have this opportunity. Her course directors also recommended speaking about anything that falls under women's health, including specifically talking about the differences between men and women with ASCVD, which she enjoyed researching more in depth.
"I think separating men versus women and really looking at, symptomatically, the differences and risk factors, it wasn't something that I was aware of," said Abuzir. "I didn't realize it was more prevalent in women versus men, and there were specific risk factors that put them at a higher risk." This discovery made Abuzir eager to share this information with her students since she knows future students will be in the same situation as her and will benefit from learning about these clinical differences in the future of their practice.
Being on the other side of the classroom showed Abuzir how much work goes into creating a lecture. She feels like her professors make look easy, considering the amount of research she conducted while thinking from a student's perspective when creating her material. "I told my advisers I had so much more of an appreciation for what they do because even me just doing one lecture, I thought, 'Wow, this was a lot,'" said Abuzir.
Her presentation was transitioned to a virtual setting due to the COVID-19 pandemic, and Abuzir was overwhelmed with the whole idea of going online.
"When I knew I was going to be teaching, you kind of picture it in a traditional setting where you're standing in front of a classroom and you're talking to 40 or 60 different students," said Abuzir. Once she wrapped her head around the idea of recording this presentation from home, it was less daunting but relying solely on technology was scary for her.
Abuzir's final presentation was still interactive for her students as she made sure to include activities such as videos that they could watch and case questions at the end to stay engaged throughout the lecture.
This experience ended up benefitting Abuzir and her own rotations, which all required her to present virtually. This topic was foreign and frightening for her fellow classmates, and it gave her the upper hand.
"This is affecting every single person around the world. All students have to go through this, so it just made the experience of having to [present things] virtually a little bit easier," said Abuzir.