Why Can't Rotation Sites Pay Student Pharmacists a Stipend?
JUNE 13, 2016
The short answer is: the accreditation document says so.

Historically, however, students could earn a full pharmacist's salary after 5 years of college. The 5-year bachelor's degree prepared student pharmacists for entry-level positions, and those who wanted more clinical training would then move onto the Doctor of Pharmacy curriculum.

As the role of the pharmacist changed, so did the degree requirements to have every student pharmacist eventually earn a doctorate.

On the one hand, PharmD students can now reasonably earn a doctorate in 6 years instead of 5 years of undergraduate pharmacy school plus 2 years of doctoral training—a savings of 1 year. On the other hand, PharmD students spend their fourth professional (P4) year doing rotations and trying to squeeze in time for their previous intern position at an intern's pay, rather than a pharmacist's.

The perceived challenges of the experiential-heavy P4 year raises 3 questions:

1. Should student pharmacists quit their intern position in their P4 year?
Ideally, student pharmacists in their P4 year will begin exploring career options regionally, nationally, and even internationally. However, those who leave their intern positions may not secure a position after pharmacy school.

On the flip side, burning the candle at both ends—the paid and the unpaid position—likely makes student pharmacists less effective in both positions. The resulting poor performance reviews could hurt their chances of securing employment.

2. Should student pharmacists be called student-pharmacist-intern-rotation-student-job-residency-seekers instead?
Arnold Schwarzenegger provided some guidance on this point in his University of Southern California 2009 commencement speech. In it, he said, "I've always figured out that there are 24 hours in the day; you sleep 6 hours and have 18 hours left."

Schwarzenegger, who has held roles as an actor, bodybuilder, college student, construction worker, and politician—often at the same time—would likely support the added hyphens.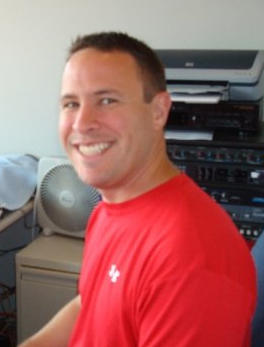 Tony Guerra, PharmD
Tony Guerra, PharmD, is chair, instructor, and pre-pharmacy advisor at Des Moines Area Community College's Pharmacy Technician program and Pharmacy Podcast Network Co-Host. He's Tony_PharmD on Twitter and TonyPharmD on YouTube providing Top 200 drugs and pronunciation help to over 4,500 followers with over 1 million views. His two audiobooks Memorizing Pharmacology: A Relaxed Approach and How to Pronounce Drug Names: A Visual Approach to Preventing Medication Errors are Amazon bestsellers. He graduated from Iowa State University with a BA in English and the University of Maryland with his PharmD.