The Apple Watch Aims to Help Detect Atrial Fibrillation
NOVEMBER 30, 2017
Atrial fibrillation is one of the highest rates of arrhythmias occurring in the general populace with a number of medical management strategies. Perhaps most concerning, due to its pathology, is the increased risk of developing thrombi with a high risk of cardioembolic stroke. Needless to say, the other symptoms of afib are complicated, and also depend on a rate or rhythm control for chronic management.
For a patient diagnosed with afib, the concern is when the disease becomes quite symptomatic, and they need to be seen. This can be accomplished by seeing a provider for an urgent visit, or going to the ER. Several companies have been identifying this as a potential niche to create new products to help patients self-identify when afib is a problem.

One example is Kardia, who created several years ago a device called AliveCor that could go on the back of the iPhone to detect afib through a one-lead EKG.1 They recently got approval by the FDA to sell their "Kardia Band," which is an iPhone strap that has a built-in sensor to detect heart rhythm by placing your thumb on it.2

Whats interesting is that Kardia had conducted a study in Australia in community pharmacies to help screen people for undiagnosed afib by having pharmacists offer such services.3 Ideally, one big goal would be the point where such technology can help patients identify undiagnosed issues before waiting for the disease to become symptomatic or problematic necessitating immediate medical intervention, but rather quick preventive treatment.
While Kardia has for years been focusing on getting their technology to the market and broadening awareness of its device in the afib population, Apple has also been in the background looking to see how they can expand their iPhone and Apple Watch products into the digital health market. Now, Apple has announced their move by partnering with Stanford Medicine to evaluate how the Apple Watch may detect afib and heart arrhythmias.4
The '
Apple Heart Study' app
is now available on the Apple Store for people to download and participate in (if they meet the inclusion criteria and agree to be a trial subject). What makes this fascinating to me is that this is an incredible move on Apple's part to push for data to indicate if their products can enter the health space.
With news coming that some insurance companies are giving Apple watches to their members to help improve wellness, this may be another avenue to encourage health insurers or other agencies to recommend the Apple Watch in an increasingly competitive wearable market.
Demonstrating that their watch goes beyond others concerning just tracking steps and calories is the key move here, and other companies will likely have to compete or go to the wayside as other wearables have in the past 5 years (such as the Nike Fuelband and a few others). Coming back to my earlier point, the other benefit to whether this works or not, will be that there may be a product soon on the market that can detect afib before a doctor may, and thus could also serve a public health service. The competition between Apple and companies like Kardia and others will likely come to a head shortly, especially since the Apple Watch can offer more than the add-on products.
For pharmacists, I think the exciting thing here is that for our patients who are on medications for afib, such as anticoagulant therapy or heart rate/rhythm control, this type of technology may be beneficial in several aspects. Foremost, I think it could help alleviate concerns for patients to identify when they may be symptomatic as they have access to objective data demonstrating if their heart rhythm is normal. Second, it could also encourage patients to be more adherent to their therapy as they can see the outcome or need for treatment. Lastly, it could be an interesting talking point for pharmacists that are conducting MTM services as this could be a tool to collect data from.

References
Alivecor. Available from https://www.alivecor.com/
FDA Clears First Medical Device Accessory for Apple Watch®. PRNewswire. November 30, 2017. Accessed from https://www.prnewswire.com/news-releases/fda-clears-first-medical-device-accessory-for-apple-watch-300564129.html.
Lowres N, Neubeck L, Salkeld G, et al. Feasibility and cost-effectiveness of stroke prevention through community screening for atrial fibrillation using iPhone ECG in pharmacies. The SEARCH-AF study. Thromb Haemost. 2014;111(6):1167-76.
Apple Heart STudy launches to identify irregular heart rhythms. Apple Newsroom. November 30, 2017. Accessed from https://www.apple.com/newsroom/2017/11/apple-heart-study-launches-to-identify-irregular-heart-rhythms/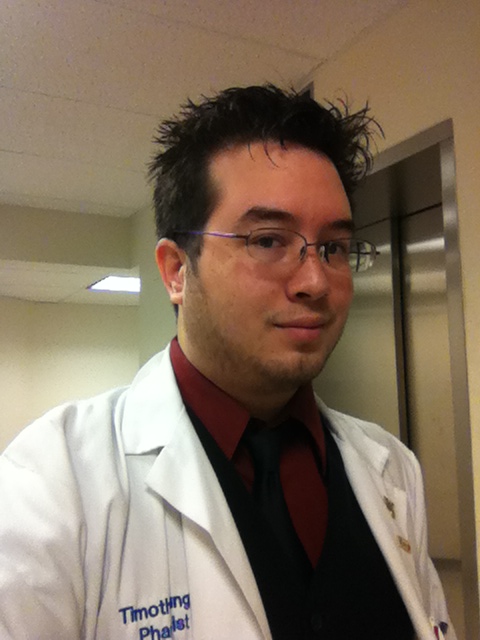 Timothy Aungst, PharmD
Timothy Dy Aungst, PharmD, is an associate professor of pharmacy practice at MCPHS University. He graduated from Wilkes University Nesbitt School of Pharmacy and completed a PGY-1 Pharmacy Practice Residency at St. Luke's University Hospital, and then a Clinical Geriatric Fellowship at MCPHS University. He is passionate about the rise of technology in health care and its application to pharmacy. He has published primarily on the role of mobile technology and mHealth, and made multiple national and international presentations on those topics. He blogs at TheDigitalApothecary.com, and you can find him on Twitter @TDAungst.