How MTM Is Disrupting Pharmacy Care
DECEMBER 14, 2015
Let's discuss the disruption of pharmacy care, as we know it, by evaluating the option of providing medication therapy management (MTM) services to a hospital's inpatients and its associated medical groups' outpatients.
All MTM services may be billed for, but the question remains: which insurance companies will reimburse them? Many studies have validated the value of the pharmacist in providing MTM services solely as a cost-avoidance model for any specific medical group. Ideally, MTM services would be billed and reimbursed while cost-avoidance would be documented through an increasingly positive outcome of care for these specific patients.
MTM services may be focused on specific situations such as a targeted medication review or discharge education, or they may be provided as complete comprehensive medication reviews.
The following are general descriptions of the different forms of MTM services:
Comprehensive Medication Review
A 60-minute session completed at bedside, in an office, at the pharmacy, or wherever.
Complete reconciliation of a patient's entire medication record.
Ensures that a diagnosis is associated with each and every medication.
Develops a personal medication record that the patient will maintain and update.
Identifies and prioritizes existing or potential medication-related problems.
Creates a medication action plan to resolve the medication problems.
Provides medication education, as necessary, to help the patient understand treatment.
Pharmacist communicates with the patient's physician and care team as necessary.
Follow-up phone call at 7 days to ensure the patient understands the medication action plan follow-up process.
Target Medication Review
A 20-minute session.
Provides patient and caregiver education.
Adds the new medication into the personal medication record.
Identifies any potential medication-related problems in relation to the new medication.
Follows up with the patient's physician regarding the new medication, if necessary
Bedside MTM
First half takes about 30 minutes, with the entire program taking about 60 minutes.
Performed by a pharmacist prior to discharge.
Assesses and addresses the patient's ability to adhere to the medication regimen at home.
Provides education to the patient and family regarding medication adherence tools.
Assesses and educates the patient about his or her current medication regimen.
Performs a target medication review of any new medications the patient will go home with.
As Time Permits
Reconcile patient's medications and complete a personal medication record.
Identify any medication-related problems.
Create a medication action plan to resolve any medication-related problems.
Follow up with the health care team as necessary.
Follow up with the patient at 3 and 21 days post-discharge.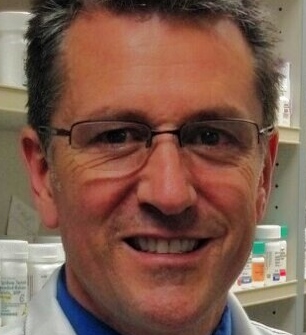 Steve Leuck, PharmD
Steve Leuck, PharmD, has been practicing both hospital and community pharmacy for over 30 years. He founded AudibleRx, in 2011, which provides Consumer Medication Information which is both Useful and Accessible. Content designed to meet health literacy guidelines. Format designed to "read along" with the audio presentation in a simple to use web application. More information at AudibleRx.org.