Do You Have This in Your Pharmacy Practice?
JANUARY 06, 2015
As a pharmacist recently shared with me, "Medication counseling is an acquired skill which takes not only knowledge, but (also) communication skills which must be patient-specific and flexible based on patient feedback."

Pharmacists are now being asked to leap out from behind the counter in super-human fashion to demonstrate our skills to patients. We will educate patients on everything from bunions, to chest pain, to lice treatment, to schizophrenia, to pulmonary embolism. Of course, we will do this while providing patients with diabetes, cholesterol, and blood pressure screening at each visit and also assuring that all of their vaccinations are up to date.

In addition to providing patient education on disease states and medications, pharmacists are now considered the experts and front runners of medication adherence, medication therapy management (MTM), prescription synchronization, and medication reconciliation. Some say it is our calling to step up and take charge of our domain!

Here's the issue: we have been standing behind the counter for quite a few years. We are very competent and efficient at what we do.

For many years, we have enveloped ourselves in a hidden world of our secret "behind-the-counter" society of pharmaceutical function. Not a script gets by us without clinical review, verification of dosage, drug interaction check, allergy review, and insurance payment verification. Regularly, we may be seen at the consultation area (on our side of the counter) discussing medication treatment regimens with a patient and his or her caregivers.

So, aside from the obvious hurdle of productivity metrics and time management, how are we to move to the other side of the counter where we will be present as health literacy and MTM experts?

One word: empathy.

You thought I was going to mention something like special MTM Certification. Because pharmacists like to study and learn, gaining special certifications comes natural to us. What doesn't come natural is taking the time to listen to a patient as if he or she is the only person in the store. Yes, we are very busy; however, when given the opportunity to explain their situations and questions, most patients will not speak for more than 2 minutes.

At that point, you, the pharmacist, have gained a patient's trust and attention. Give the patient a moment to explain his or her situation, acknowledge that ordeal, and then offer appropriate guidance. This, my colleagues, is empathy.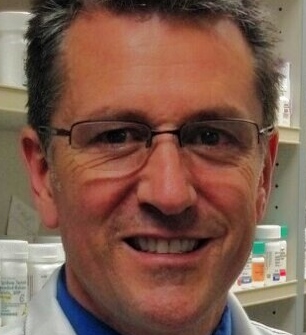 Steve Leuck, PharmD
Steve Leuck, PharmD, has been practicing both hospital and community pharmacy for over 30 years. He founded AudibleRx, in 2011, which provides Consumer Medication Information which is both Useful and Accessible. Content designed to meet health literacy guidelines. Format designed to "read along" with the audio presentation in a simple to use web application. More information at AudibleRx.org.