The Rise of the Digital Pharmacy
MAY 17, 2015
In the era of the Internet-of-Things and digital health, the sheer number of companies creating products to measure and evaluate the human body is substantial.
A recent publication in
Nature
, titled "Defining Digital Medicine," is a great example of the depth of research and development on technological advancements that has occurred in the past decade.
Many advances are being made across multiple areas of digital medicine. Take, for instance, devices that allow a diabetic to have continuous blood glucose measurement by wearing a patch, compared with testing themselves with conventional blood glucose measuring devices intermittently throughout the day. This provides a better assessment of patient-specific data and allows remote monitoring that was previously unavailable to clinicians.
What other kinds of patient data measurement are we seeing now? Well, it includes the following:
Posture and position
Muscle activity and physical movement
Blood pressure and heart rate and rhythm
Oxygen level and respiration rate
Hydration
Body temperature
Brain activity
Blood glucose
Sleep
Most of these measurements have at least 3 or more companies financially invested in creating products that can meet patient needs and lead to a revolution in digital health.
The question then becomes: where does pharmacy fit in?
In some ways, these patient data assessments may be beneficial to medication assessment and management. While there has been much emphasis in the pharmacy community about using technology to improve medication adherence, there may be more room to assess and monitor patient safety with medications and therapeutic responses.
The always-connected patient may prove beneficial for remote disease management in multiple health sectors, as it may alleviate the logistical barriers of scheduling and seeing patients in a clinic for routine management. Hospital and clinics may some day be reserved solely for severely ill patients and medical procedures and recovery. Patients requiring monitoring may be kept at home, and the annual visit could be replaced with the use of digital medicine interventions.
Even the task of ordering laboratory tests is being brought into the pharmacy (consider Theranos and Walgreens). In a sense, the pharmacy could be leveraged for remote disease monitoring and treatment, based on the reduced cost and space needed thanks to digital technology.
Although this most likely will not happen overnight, it is worth recognizing drastic changes are on the way. The time of the digital pharmacist may be on the horizon.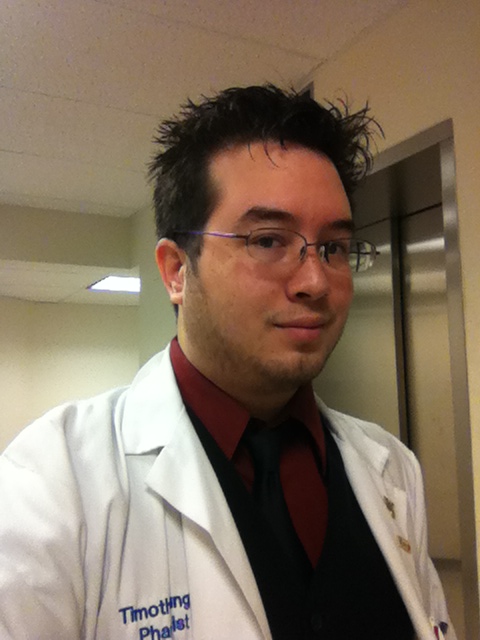 Timothy Aungst, PharmD
Timothy Dy Aungst, PharmD, is an associate professor of pharmacy practice at MCPHS University. He graduated from Wilkes University Nesbitt School of Pharmacy and completed a PGY-1 Pharmacy Practice Residency at St. Luke's University Hospital, and then a Clinical Geriatric Fellowship at MCPHS University. He is passionate about the rise of technology in health care and its application to pharmacy. He has published primarily on the role of mobile technology and mHealth, and made multiple national and international presentations on those topics. He blogs at TheDigitalApothecary.com, and you can find him on Twitter @TDAungst.