Lupin Pharmaceuticals, Inc
2018-08-09 00:00:00
Lupin Pharmaceuticals, Inc, is dedicated to delivering high-quality, branded, and generic pharmaceutical products that are trusted by health care professionals and patients across the United States. Lupin is the fifth-largest generic pharmaceutical company in the United States by prescriptions dispensed, with a 5.3% generic market share, according to the IMS Health National Prescription Audit, MAT March 2018.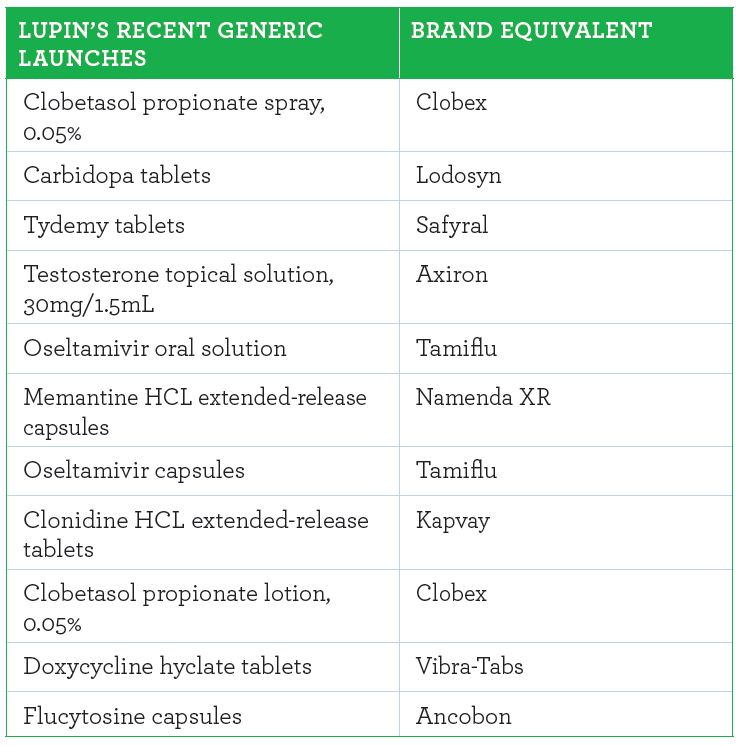 Lupin's journey began in 2003 with 3 Baltimore, Maryland–based employees and 1 US generic product approval, and it now markets a total of 157 generic products. As of March 2018, Lupin was the market share leader in 51 generic products and among the top 3 in 109 products in the US, according to IMS Generics Module, Quarterly Data March 2018. In March 2016, Lupin completed its acquisitions of privately held US-based Gavis Pharmaceuticals, LLC, and Novel Laboratories, Inc. Novel Laboratories has since been renamed Lupin Somerset. The strategic acquisition enhances Lupin's scale in both the US brand and generic markets and broadens its pipeline in controlled substance products, dermatology, and other high-value and niche brands and generics.
Lupin has played to its strengths, focusing on increasing its market share not only for product launches but also for existing products. Lupin constantly engages with its customers and trade partners and has worked hard to strengthen its supply chain to ensure industry-leading service levels. The company filed 36 abbreviated new drug applications (ANDAs) in the US market in fiscal 2018 and has 162 ANDAs pending approval. Lupin's first-to-file (FTF) ANDAs pending launch stand at 36, including 15 exclusive FTF ANDAs. In addition, Lupin generated $888.7 million in net revenue and launched 22 products in the past fiscal year. Most of Lupin's products are vertically integrated, ensuring quality control throughout each step of product development and manufacturing. This gives Lupin an unparalleled advantage over competitors, as it can control its supply chain while offering competitive pricing.
Recent generic launches include carbidopa tablets (Lodosyn), clobetasol propionate lotion 0.05% (Clobex), clobetasol propionate spray 0.05% (Clobex), clonidine HCL ER tablets (Kapvay), doxycycline hyclate tablets (Vibra-Tabs), flucytosine capsules (Ancobon), memantine HCL ER capsules (Namenda XR), oseltamivir capsules and oral solution (Tamiflu), testosterone topical solution (Axiron), and tydemy tablets (Safyral).
Lupin aims to continue to strengthen its market presence by launching products and expanding its pipeline to offer medications in new therapeutic areas such as dermatology, pediatrics, women's health, inhalation, and complex injectables. Lupin's steadfast commitment to quality and reliability will position the company to consistently deliver high-quality products and ensure customer satisfaction for years to come.
---
For more information, visit lupinpharmaceuticals.com.
---