Amneal Pharmaceuticals
2018-08-08 18:26:00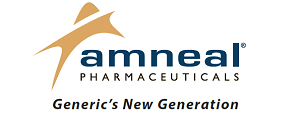 Making Healthy Possible
In May, Amneal Pharmaceuticals and Impax Laboratories combined to form one of the leading generic pharmaceutical companies in the United States.
The increased product diversification and scale, along with an expanding specialty franchise, positions Amneal for continued growth, delivering affordable and value-generating medicines to pharmacies throughout the country.
Within its generics business, Amneal is sharpening its focus on alternative drug form and complex abbreviated new drug applications with high-value, difficultto-develop, first-to-file, or first-to-market product opportunities. The company's in-house development capabilities are expansive, representing all forms, including complex oral solids, injectables, liquids, ophthalmics, topicals, and transdermals.
The output of this deep capability is a pipeline that includes more than 280 products filed with the FDA or in development.
This includes products across a broad range of therapeutic areas, including anti-infective, cardiovascular, central nervous system (CNS)/pain, dermatology, diabetes, endocrinology, hematology, inflammation, oncology, rhinology, and urology.
Amneal's growing specialty business includes Impax's marketed products in CNS disorders and parasitic infections as well as its Gemini Laboratories LLC unit's marketed products in endocrinology and other therapeutic categories.
Furthermore, Amneal has 3 biosimilar products in various stages of development as it continues to evolve and diversify its business.
Although Amneal has certainly grown from its founding as a family-run start-up in 2002, the company remains focused on the original principles that have guided its success for nearly 2 decades. Core values of ethics and integrity are central to Amneal's culture, mission, and future.
Whether delivering affordable medicines through its generics business, meeting important medical needs through its specialty brands division, or partnering with customers, doctors, and other stakeholders to provide solutions for tomorrow's health challenges, Amneal is more determined than ever to make healthy possible.
---
For more information, visit amneal.com.
---