Can You Read These Rxs? (August 2018)
AUGUST 10, 2018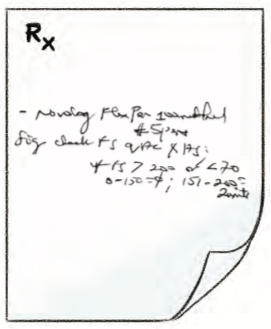 Rx 1: Pharmacist Aubrey Moreau, PharmD, of Kmart Pharmacy in Silver Spring, Maryland, had to verify this prescription with the nurse practitioner who wrote it. Can you decipher it?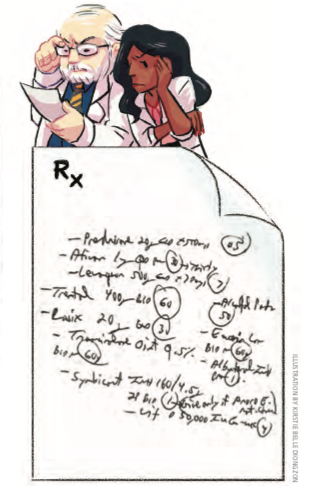 Rx 2: Jamie Wrenn, PharmD, a pharmacist at a Walgreens in Chicago, Illinois, expressed concern that cramming as many medications as possible onto a single prescription sheet is an error waiting to happen. How many can you read?
Answers:
Rx 1 : Novolog Flexpen, 5 pens, check fasting stick before meals and at bedtime. contact primary care provider if blood sugar is above 200 or below 70. If blood sugar is between 0 and 150, use 0 units; if blood sugar is between 151 and 200, use 2 units.
Rx 2: Prednisone 20 mg, #5, 1 tablet daily for 5 days; Ativan 1 mg, #30, 1 tablet daily as needed; Levaquin 500 mg, #7, 1 tablet daily for 7 days; Trental 400 mg, #60, 1 tablet twice daily; Lasix 20 mg, #30, 1 tablet daily; triamcinolone 0.5% ointment, 60 g, apply twice daily; Symbicort 160/4.5, #1, 2 puffs twice daily, only if Anoro Ellipta is not covered; vitamin D 50,000 IU, #4, 1 capsule weekly; alcohol pads, #50; Eucerin Cream, 60 g, apply twice daily as needed; albuterol inhaler, #1, use as needed.