Pharmacists Explore Best Practices for Providing Physical Assessments
2019-06-14 13:58:00
Aislinn Antrim, Assistant Editor
Pharmacy professionals explored best practices and techniques for physical exams at an 2019 American Society of Health-System Pharmacists (ASHP) Summer Meeting session "
Physical Assessment for Ambulatory Care Pharmacists
"
on Wednesday.
As the pharmacy services industry continues to shift toward more all-around care, an increasing number of pharmacists are implementing physical exams in their practice.
Presenter Melanie A. Dodd, PharmD, PhC, BCPS, FASHP established 3 major components of an examination: interview and health history; general survey and vital signs; and the physical exam. The examination, she said, is intended to identify a patient's normal state, and then explore any variations from that state through validation of the patient's complaints and symptoms.
While she outlined the full physical exam of the entire body, Dodd added that the interview and health history should determine areas of concern in which to concentrate. Pharmacists, she said, tend to do more focused exams based on the concerns or symptoms of the patient.
"If we don't do a good job in that interview and health history, we may go down the wrong path and select the wrong physical exam to perform," she said.
Techniques for the physical examination include inspection, palpation, percussion, and auscultation.
"Really, our hands are the best tools that we'll use to be able to detect temperature, and to be able to detect is it soft? Is it hard? Detecting shape, consistency—all of those things through palpation," Dodd said.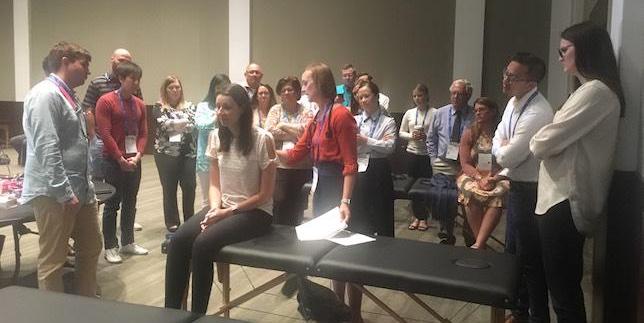 After Dodd's brief presentation, the attendees broke out into 4 stations to further explore and practice areas of a physical examination: musculoskeletal, neurological, cardiovascular, and pulmonary.
At the musculoskeletal station Dodd explained the sequence of checking joints, bones, and range of motion, before moving onto some tests for assessing fall risks. Timing the patient while they walk 10 feet and return provides a good indication of their fall risk, she said, recommending using the CDC's STEADI resource with 'normal' times for patients according to their age bracket. She also recommended several balance tests—standing in 4 different positions for 10 seconds each to further explore a patients' risk of falling.
The neurological station, presented by Joe R. Anderson, PharmD, PhC, BCPS, explored basic assessments for the cranial nerves, such as using a penlight to check pupil dilation and using the point of a paperclip to assess pain responses. Medications can cause or exacerbate some conditions, so awareness of the patient's current medications is vital in order to recognize whether it's a new condition or a side effect.
The pulmonary station provided opportunities to practice listening to a patient's lungs using a stethoscope or hands under the instruction of Jamie Cavanaugh, PharmD, CPP, BCPS. Without using a stethoscope, attendees were able to hear lung vibrations as the practice patients said "99" by placing hands sideways on the person's back between the shoulder blades.
Finally, at the cardiovascular station, Betsy Shilliday, PharmD, CDE, CPP, BCACVP, FASHP reviewed best practices for blood pressure and orthostatic measurements with attendees. Dodd recommended performing these tests at the very end of the assessment, since patients would ideally be sitting for about 5 minutes before taking these measurements. She also stressed the importance of asking about the patient's eating, drinking, smoking, and exercise habits in order to get context around their cardiovascular health.
For each stage of the examination process, Dodd emphasized visually assessing the patient--are they out of breath, do they have a curved posture, are they alert, etc.
Reference
Dodd M, Anderson J, Cavanaugh J, Shilliday B. Physical Assessment for Ambulatory Care Pharmacists. Presented at: American Society of Health-System Pharmacists (ASHP) Summer Meeting; Boston, MA; June 12, 2019. Accessed June 12, 2019.