OTC Products: February 2019
2019-02-14 18:00:00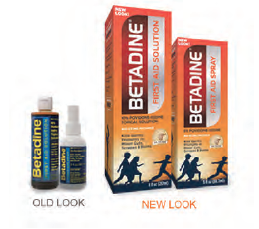 BETADINE FIRST AID SOLUTION AND FIRST AID SPRAY
MARKETED BY: Avrio Health LP
Betadine's First Aid Solution and First Aid Spray may be harder to spot on pharmacy shelves this month, because of a recent packaging makeover. The First Aid Solution is made of 10% povidone-iodine, a formulation that kills germs and prevents infection in minor burns, cuts, and scrapes, and the First Aid Spray is formulated with 5% povidone-iodine and achieves similar results. Betadine also has a no-sting promise, as its products do not contain alcohol or peroxide. Patients can receive a refund if the first aid products do cause stinging.
FOR MORE INFORMATION: betadine.com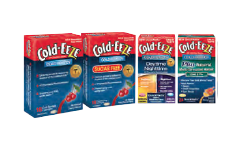 COLD-EEZE ZINC REMEDIES
MARKETED BY: Mylan
The winter months are when people are more likely to get common colds, because of colder and drier weather that allows viruses to spread. Although there is no cure for a cold, Cold-EEZE zinc products can help shorten the length of symptoms and help those who take them feel better faster. The product line includes cold-shortening gummies, lozenges, oral spray, and quick-melts in a wide variety of flavors.
FOR MORE INFORMATION: coldeeze.com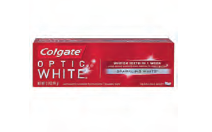 COLGATE OPTIC WHITE SPARKLING WHITE TOOTHPASTE
MARKETED BY: Colgate-Palmolive
Colgate Optic White Sparkling White Toothpaste is the first toothpaste brand to be awarded a seal of acceptance from the American Dental Association (ADA) for at-home tooth bleaching. The ADA found the whitening toothpaste to be effective and safe for preventing cavities and whitening teeth, and the product received the seal after being evaluated for efficacy and safety and meeting both ADA- and American National Standards Institute–approved dental standards.
FOR MORE INFORMATION: colgatepalmolive.com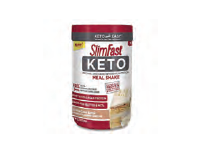 SLIMFAST KETO
MARKETED BY: Slimfast
The diet company known for powders and shakes is launching a line of products for those who follow the popular Keto diet. The diet allows the body to use fat, rather than carbs, as an energy source, which makes it enter a state called ketosis. This is done by eating very few carbs, a lot of fat, and moderate protein. The new Slimfast Keto line includes bars, fat bomb snacks, medium chain triglycerides oil, shakes, and unsweetened coffee creamer, and ketone strips to track results. The products do not contain gluten or artificial colors, flavors, or sweeteners.
FOR MORE INFORMATION: slimfast.com