Pharmacy Times Takes to Social Media to #ThankAPharmacist During American Pharmacists Month
2017-10-03 14:55:00
Pharmacy Times
®
celebrates American Pharmacists Month (APhM) this October. Sponsored by the American Pharmacists Association, the goal of APhM is to draw attention to the pharmacy profession and generate recognition for pharmacists among their peers, patients, and communities.
Pharmacy Times® will take to social media again in 2017 during APhM to help honor and celebrate pharmacists everywhere. Now in its third year, the annual #ThankAPharmacist campaign helps recognize thousands of pharmacists through its Twitter, Facebook, and Instagram channels, bringing broader awareness to the profession and celebrating the value of the pharmacist.
"We are delighted to continue our tradition of supporting American Pharmacists Month this October and invite the pharmacy community to join us on social media using #ThankAPharmacist and #PTThanksYou to show your appreciation for these professionals who dedicate themselves to help us all lead healthier lives," said Brian Haug, president of Pharmacy and Healthcare Communications, LLC, which publishes Pharmacy Times
®
. "Leveraging the power of Pharmacy Times
®
, we are committed once again to recognizing U.S. pharmacists who make an impact on the everyday practice of pharmacy in this constantly evolving landscape to improve the overall quality of patient care."
Each October, APhM encourages consumers to "Know Your Medicine, Know Your Pharmacist," highlighting the important role pharmacists play as they offer assistance with prescription and over-the-counter medication choices. Some of the stories are shared below: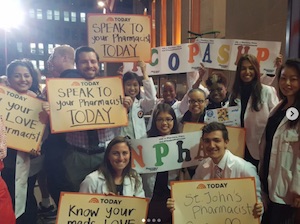 = "Know Your Pharmacist:" Pharmacy Times® Supports APhM to #ThankAPharmacist
Supporting APhM's effort to "Know Your Pharmacist," Pharmacy Times® asks its followers to thank, recognize and celebrate pharmacists via social media with #ThankAPharmacist throughout the month, including "Selfie Day" on Oct. 4 and "Pharmacy Technician Day" on Oct. 17. Pharmacy Times® encourages followers to share an experience or photo that brings the value of their pharmacist to light. As in previous years, followers will also have an opportunity to generate awareness and goodwill for their favorite pharmacists by using #ThankAPharmacist and tagging @Pharmacy_Times. New this year, Pharmacy Times® encourages video submissions by using #PTThanksYou and tagging @Pharmacy_Times.
Additionally, in its November issue, Pharmacy Times
®
will feature a selection of 10 posts shared during APhM that best exemplify the value of a pharmacist. Selections will be considered from all three Pharmacy Times®' social media platforms: Twitter, Facebook, and Instagram. Followers can submit stories through those outlets for a chance to be highlighted in the top 10 selection. Followers with video submissions will also have an opportunity to be highlighted in November on the Pharmacy Times® website. For the first time, Pharmacy Times® will feature the top 3 most-liked videos submitted to #PTthanksYou during APhM on PharmacyTimes.com.
"Know Your Medication:" OTC Guide™ from Pharmacy Times® and U.S. News & World Report
In today's health care system, pharmacists provide guidance and information for patients on both prescription and over-the-counter medications. Pharmacists have a responsibility to share these insights, as medical risks increase with the number of medications taken by a patient.
For more information on the #ThankAPharmacist campaign, visit the Pharmacy Times® website (www.pharmacytimes.com) and check out Facebook (Facebook.com/PharmacyTimes), Twitter (@Pharmacy_Times) and Instagram (pharmacytimes). To see top pharmacist-recommended products, visit www.otcguide.net and www.usnews.com/health-products.
About Pharmacy Times
®
Pharmacy Times® is the leading media resource for pharmacists and the pharmacy industry, providing practical clinical and professional information pharmacists can use in their everyday practices when counseling patients and interacting with other health care providers. Each issue and the website contain articles and features covering industry trends, medication errors, drug interactions, patient education, disease state management, patient counseling, product news, pharmacy law and more. Additionally, Pharmacy Times Continuing Education™ is accredited by the Accreditation Council for Pharmacy Education as a provider of continuing pharmacy education. Pharmacy Times® is part of Michael J. Hennessy Associates, Inc., a full-service health care communications company offering education, research and medical media.