MCPHS University Students Sweep Poster Competition Awards
OCTOBER 26, 2014
Two groups of students from MCPHS University were named the winners of the People's Choice Poster Competition at the 10th Annual New England Pharmacists Convention. The conference, held at the Foxwoods Resort & Casino in Mashantucket, Connecticut, featured hundreds of pharmacists and students from across the New England region.
This year's poster competition drew participants from both pharmacists and pharmacy students, with 23 posters submitted in total. The poster session was divided into 2 categories: successful integration of pharmacy students in a practice setting, and innovation in pharmacy practice. Posters were presented to convention attendees during a live 2-hour session.
The winner for best poster in the pharmacy student integration category was MCPHS University PharmD candidates Sandra Aziz, Emilie Maloy, and Timothy O'Shea; Enrique Seoane-Vazquez, PhD, and Timothy Hudd, BS, PharmD, AE-C, were also authors.

The poster detailed the students' presentation to a group of Resident Service Coordinators completing the Freedom from Smoking training program sponsored by the American Lung Association. Specifically, the poster documented the 3 students' presentation on FDA-approved smoking cessation therapies, results of a post-assessment survey, and learning through Center for the Advancement of Pharmacy Education outcomes achieved. Seven posters were submitted in this category.



Emilie Maloy, Sandra Aziz, and Timothy O'Shea in front of their winning poster.

Nicholas Heath and Philip Carpiniello in front of their winning poster.

The best poster in the pharmacy innovation category was awarded to MCPHS University PharmD candidates Philip Carpiniello and Nicholas Heath; Mark J. Simone, MD, and Lisa Padgett, PharmD, BCACP, were also authors.

The poster outlined a strategy to meet the demand for growing geriatric practitioners by proposing an interdisciplinary geriatric team composed of a clinical pharmacist, PGY1 residents, APPE students, geriatrician, medical residents, social workers, and a nurse case manager. Sixteen posters were submitted in this category.
Posters were judged by convention attendees. The winning teams from each category will receive a plaque and their abstract and poster will be published in the fall issue of the Pharmacy Journal of New England.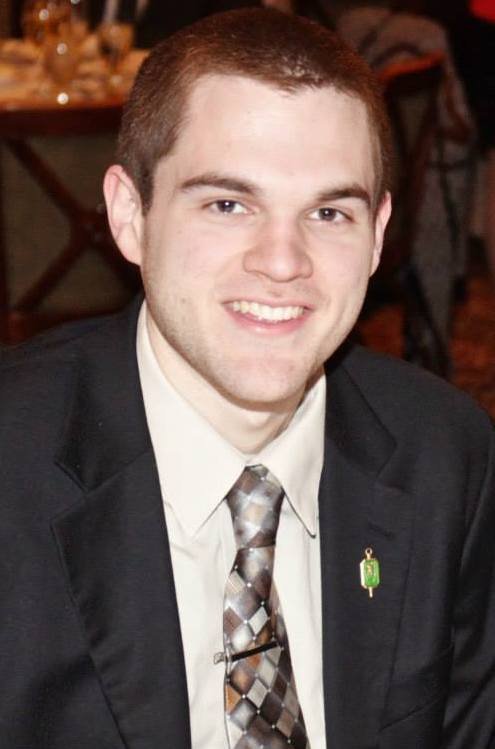 Timothy O'Shea, PharmD
Timothy O'Shea, PharmD, is a Clinical Pharmacist working at a large health insurance plan on the east coast. Additionally he works per diem at a retail pharmacy chain. He graduated from MCPHS University - Boston in 2015 and subsequently completed a PGY-1 Managed Care Pharmacy Residency. His professional interests include pharmacy legislation and managed care pharmacy. He can be followed on Twitter at @toshea125.