Pharmacy Student Crowned Miss America 2020
0000-00-00 00:00:00
Aislinn Antrim, Assistant Editor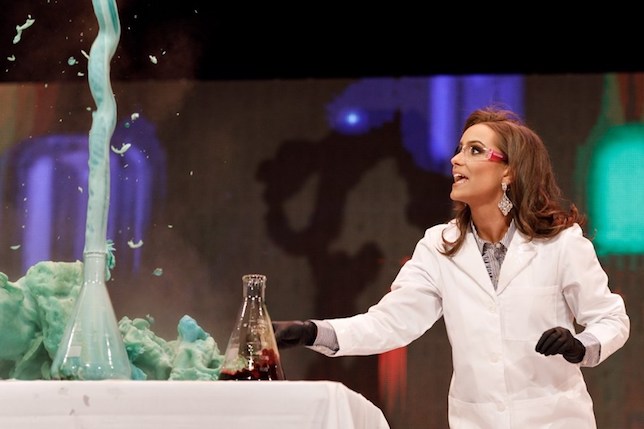 Photo: John Herzog Photography/Camille Schrier conducts a science experiment during the talent portion of the Miss Virginia competition in June.
Camille Schrier, a pharmacy student at Virginia Commonwealth University (VCU), has been crowned Miss America 2020. Schrier's social impact initiative for the competition was called "Mind Your Meds: Drug Safety and Abuse Prevention from Pediatrics to Geriatrics."
1
The competition was broadcast Thursday on NBC.
Previously crowned Miss Virginia
, Schrier graduated from Virginia Tech in 2018 with degrees in biochemistry and systems biology, and, according to the VCU School of Pharmacy blog, Schrier has loved science since middle school.
2
According to VCU, Schrier's interest in pharmacy is personal. She was diagnosed with Ehlers-Danlos syndrome, a genetic condition affecting body tissue, joints, and blood vessels, when she was age 11 years.
2
The lack of treatments for her condition stemmed Schrier's goal of entering the medical field.
2
For her talent presentation in both the Miss Virginia and the Miss America pageants, Schrier conducted a science experiment using potassium iodide to show the rapid decomposition of hydrogen peroxide, resulting in a burst of foam commonly called "elephant toothpaste."
3
Schrier's talent presentation had already won her a $2,000 scholarship earlier in the week, during the preliminary talent competition.
4
"I expected to hear some feedback saying that my talent wasn't really a talent," Schrier said, in an interview with VCU News. "But I will tell you, I was overwhelmed with messages saying how cool my talent was, how refreshing it was, and how everyone was impressed that I was able to tie education and science into something that was also entertaining."
2
Schrier's focus on STEM subjects is just the newest example of how the pageant has aimed to evolve, focusing more on professionalism and social impact than on outward appearance. The 2019 competition was the first to eliminate the swimsuit portion of the competition,
5
which excited Schrier, according to VCU.
2
In a press conference following the competition, Schrier credited the changes to the organization as her reason for competing.
6
"I never thought I could compete in the Miss America organization," Schrier said. She added that the main message she wants to spread during her reign is to be yourself and embrace who you are.
6
REFERENCES